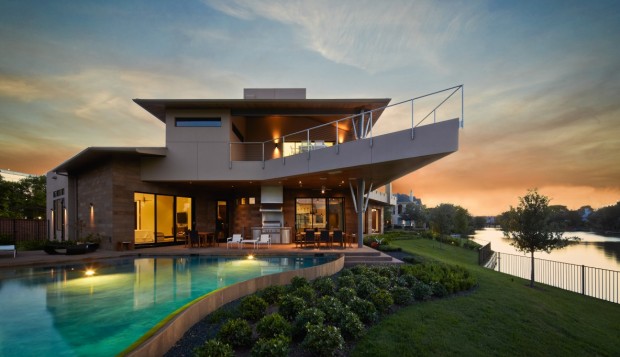 Outdoor lighting may not be the first thing you consider when building or renovating your home. But the luxuries of having a solid outdoor lighting system will show you just how beneficial it is! Premier Technology Group is your number one destination for all things smart home, ease, and automation. Whether you're at the beginning of your custom home building journey or upgrading your current home, Premier Technology Group has solutions for all of your tech needs. Let's jump into outdoor lighting!
Outdoor Ambiance
If you've ever thought about giving your outdoor entertainment area a face lift, consider outdoor lighting! A well orchestrated outdoor ambiance is vital to the experience, whether you're entertaining guests or enjoying it yourself.  Outdoor lighting can only elevate any patio, lawn, or deck space, so why not give it a try? Experience the nostalgic comfort of warm, gentle backyard lighting that slowly appears as the sun goes down. Enjoy the flexibility of light dimmers that match the environment lighting around you. Why not take it a step further and have us do the work for you? We not only use your home's natural landscape to fit outdoor lighting seamlessly, but we help you control it as well. Premier Technology Group utilizes the latest in smart home technology, including automation. You can control your lights from anywhere, anytime. Which brings us to our next benefit of outdoor lighting: security.
Security Controls
During Summer, there's a chance that you and your family may not be home. Whether you're out and about or traveling abroad, there is always the possibility that someone will notice your home is empty. A dead giveaway: it's dark. To combat this, outdoor lighting can bring an element of security to the picture. Travel without burglary-related stress, knowing that your outdoor lighting can function as a tool to disguise your vacant home. As always, our technology is fully customizable to your unique needs! Setting automated routines can increase your comfort, having you looking forward to when it gets dark, knowing that your outdoor lights will keep your surrounding environment alive. All of our outdoor lighting solutions can be synced up to your smart device, allowing for a fully remote experience and monitoring. 
Contact us today to learn how to upgrade your outdoor entertainment space with Premier Technology Group.